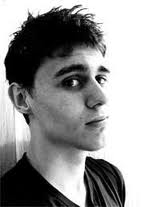 Battle On! is the ending theme used throughout Season 1.  The lyrics were written by Chris Niosi (Kirbopher) and performed by Blake Swift (Shadyvox) and Niosi.  It is available for purchase and download on TOME's bandampp page. The original version of the song was used for Episodes 1-4, with an orchestral version being used for Episode 6, a Rock-and-Roll version (featuring Alpha's lyrics only) being used for Episdode 8, and a Jazz version (featuring only Kirbopher/Zetto's lines) being used for Episode 9. It was replaced in Season 2 by a different song (performed by both Shadyvox and the Tetramino VG band) named "
Heroes Don't Ask Questions
".
Lyrics (Original)
Edit
From the T.O.M.E. Battle On! Download track Site
Type and enter the password I'm hiding, let me come in and play! (Log on!)  I step into a world that I cherish,  won't trade it any day. 
Everybody surrounding me knows  the truth behind what I do. (Beat down!) I take heed but I crave to do battle. Standing on red and blue.
No matter the cost of victory, I'm coming back every time. Oh, and I don't care how many tries it takes, I know that eventually I'll beat you tonight.
You might think you've got this in the bag, but I've got a bag full of tricks. Now I know I'm not afraid to use them if you do  try to mess with anybody that's part of my clique.
Don't you tell me how to play my game, 'cos you don't know I'm winning. You don't have a clue what I'll be thinking.
Though I may have a skeleton or two tucked away in the dark. (Get down!) One thing you can make sure I'll make do of, I'll be leaving a mark.
Nothing that you say can stop me now. I won't quit till I've won. (Let's go!)
So get ready to fight and stay on guard, now the battle is on!
The lyric in "Battle On!", "Though I may have a skeleton or two tucked away in the dark," is subtly referenced in the Season 2 theme, "Heroes Don't Ask Questions": "My skeletons have escaped my closet and they're out to let you know..."
Community content is available under
CC-BY-SA
unless otherwise noted.